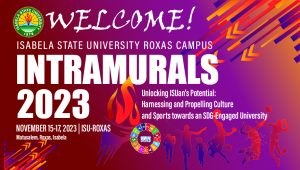 Isabela State University Roxas Campus showcased the epitome of sportsmanship and camaraderie as it conducted its highly anticipated Intramural for Sports and Socio-Cultural with the theme Unlocking ISUan's Potential: Harnessing and Propelling Culture and Sports towards an SDG-Engaged University. The event brought together students, faculty, and staff in a celebration of athleticism, teamwork, and the university's vibrant community spirit. From November 15 to 17, 2023, Isabela State University Roxas Campus transformed its campus into a bustling arena of energy, enthusiasm, and extraordinary talent as it hosted the much-awaited Intramural for Sport and Socio Activities. This three-day festivity was a celebration of athletic prowess, cultural diversity, and the unbreakable spirit that defines the ISU Roxas family.
The primary goal of the ISU Roxas Intramurals was to promote physical fitness and well-being among the university's community. The event provided a platform for participants to engage in various sports and recreational activities, fostering a culture of an active and healthy lifestyle. From traditional sports like basketball and volleyball to unconventional and fun activities, the Intramural Games catered to a diverse range of interests.
Team sports played a crucial role in fostering unity and team spirit among participants. Students from different academic disciplines joined forces to represent their respective colleges, creating a unique opportunity for interdisciplinary collaboration and relationship-building. The games not only encouraged healthy competition but also served as a platform for students to forge lasting friendships beyond the classroom as the inspirational message of Associate Professor Charibel R. Sarte, inspires ISU Roxas students that this is the time for the students to showcase their talents and build friendships as they bloom in the spirits of sportsmanship and camaraderie.
 Beyond the athletic competitions, the ISU Intramural Games also featured a variety of socio-cultural activities that highlighted the diverse talents and interests within the university community. Cultural performances, talent shows, and exhibitions allowed participants to showcase their creativity and cultural heritage. These activities added an extra layer of excitement and celebration to the event, creating a holistic experience for everyone involved.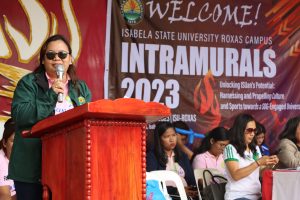 Dr. Rosalyn L. Bautista emphasized the essence of the event which focus on the student to interact socially that will foster sense of belonging positive mental health and greater engagement in both academic and non-academic. Moreover, Dr. Bautista highlighted the theme which was focus on SDGs as these are the improvement to Education, health, reduce inequality, economic growth and climate change.
The Isabela State University Intramurals not only showcased the athletic prowess of its community but also underscored the importance of holistic development, teamwork, and a vibrant campus culture. The event left a lasting impact on participants, reinforcing the university's commitment to nurturing well-rounded individuals who excel not only in academics but also in sports and socio-cultural activities. As the ISU Roxas family continues to thrive, events like the Intramurals will undoubtedly remain a cornerstone of its rich and dynamic campus life